NOW YOU CAN GET LAST TWO WEEKS HOLIDAY MONEY!!! 
Now open for you to log in and order you're remaining frozen holiday pay at borger.dk
In other words: You can now get your two-week holiday pay, which you did not get paid in the autumn. And if you did not get your money back then, then you can now book all your five week holiday pay.
It will take up to 10 working days from the time you have ordered the money until it has landed in your account. Most likely, however, you will have the money within a few days.
Note: Already its long queue at borger.dk website.  So, no hurry, the money can be ordered until 31st May.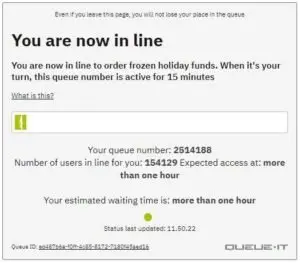 Lets us talk about how you get your holiday pay steps:
From Wednesday 24th March until 31st May 2021, you can ask to have your last weeks frozen holiday pay paid out.
You must enter via borger.dk ie.,

borger.dk/bestilferiemidler

Login with you're NemID

Employment conditions need to choose. Maybe some groups need to apply via a form.

Check how much you get paid i.e, amount is before tax.

Confirm

Click Book holiday(Danish: Bestil feriemidler)

You will receive a receipt and money will be deposited into your Nem account.
After a few days, you will receive a letter stating exactly how much money you will be paid out and when the money will be paid out.
You should expect it to take up to two weeks from the time you request the money until you have it paid into your account.
Note: If you do not ask for the money now, it will remain in LD Fonde, and you will automatically receive it at the state pension age, unless you leave the labor market before then for other reasons, and you in this connection ask for the money. It is possible to leave the holiday pay as a savings even after the state pension age. 
——————————————————————————————————-
Minister for Employment Peter Hummelgaard says:
– It is good that the employees can now get their holiday pay, so they can help the economy get back on track. We hope that the money will be spent on Danish goods and in local shops and companies that have been hit hard by the corona. From the payout in the fall, we can see that the money kicked off revenue. This time, too, it is much needed. 
– Much of the money is still in the companies. In an already difficult time, we have not wanted to ask companies to pay in holiday pay earlier than originally planned. That is why the state is investing so that the money can come out quickly and help save Danish jobs. It has been absolutely central to the government from day one. That is why we have, among other things, made wage compensation that has prevented thousands of dismissals.
In total, employers have reported approx. 108 million kroner in frozen holiday pay. Initially, the frozen holiday pay should have been paid out when you reach the state pension age, unless you retire from the labor market for other reasons before that, and you ask for the holiday pay in this connection.
In the autumn, employees raised around DKK 52 million before tax. You can order the money on borger.dk, and it takes up to ten days until it arrives in the bank account. Some may find that they have to wait a little longer, for example for people with special tax conditions.
It is voluntary whether you want your holiday pay paid out now or wait until later. If left unmanaged, they can be left astray and lose the right path.
What to check how much money you can expect to get released if you want the last two weeks paid out, check below any of the links. Note that the amount stated by the calculator is indicative. You have to pay tax on the amount.
Link 1 (Danish): here
Link 2 (Danish): here 
Source: bt.dk, tv2.dk and dr.dk
finDenmark
WELCOME!!! Find Denmark provides and guide with information on DENMARK. This will help to enjoy more info and makes your life easy. This Page is for all and we hope you enjoy the info.
Explore the universe of Denmark. Denmark is a country comprising the Jutland peninsula and its offshore islands, linking Northern Europe and Scandinavia via the Öresund bridge. Capital: Copenhagen, Currency: Danish krone
This Page deals with facts, articles and news about the Danish society. This Page is also all about helping each other, so welcome share your tips, recommendations etc.,
WELCOME ONCE AGAIN!!!